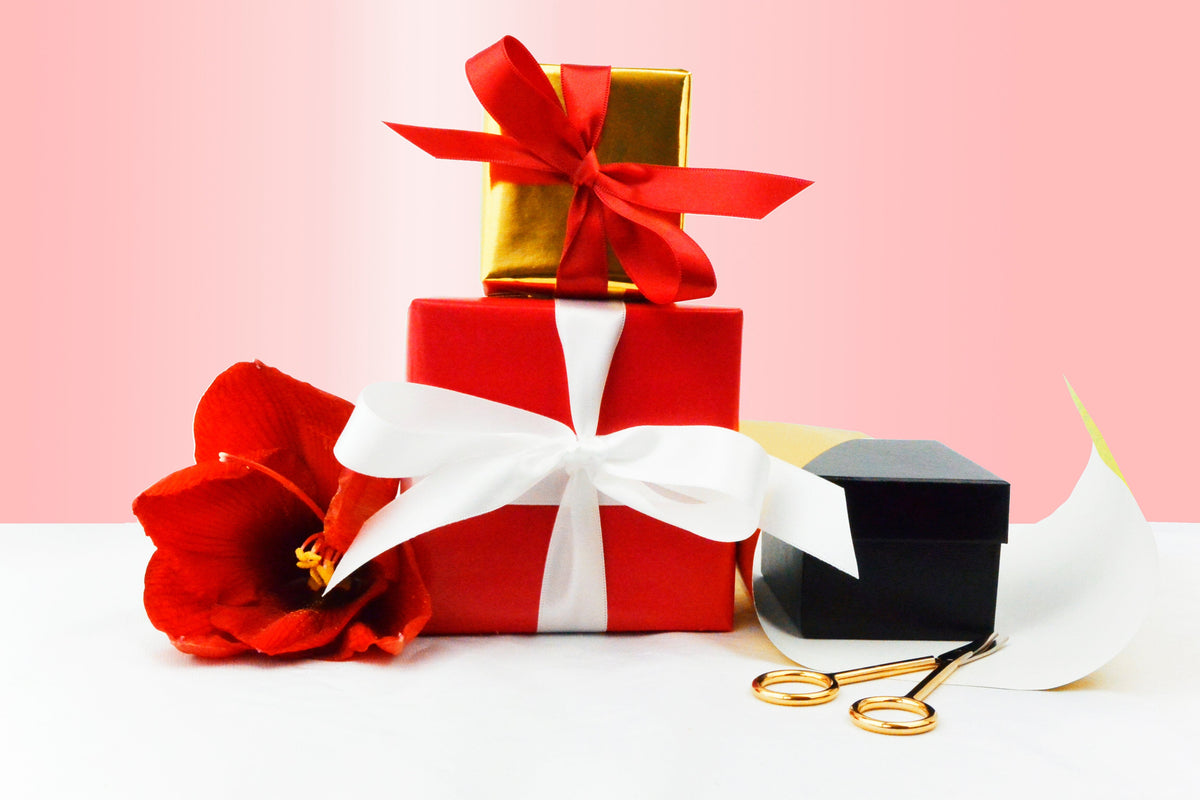 Gift Wrapping Service for Retail: How to Set Up a Gift Wrapping Station
There's a good chance that your customers hate wrapping gifts. They may be looking for easy-to-wrap-gifts or, better yet, a professional to wrap their gifts.  That's why, you should consider setting up a retail gift wrap station in your boutique that will certainly offer a perk that customers are seeking.
52% of participants in a survey conducted by OnePoll agreed on the worst part of the holiday season. Their answer? Wrapping gifts.
This makes sense considering that, on average, Americans spend 3 hours wrapping holiday gifts. 25% actually spend 4 hours or more.
The takeaway here: A retail gift wrapping station can really appeal to consumers on the gift buying journey. Offering gift wrapping service can be a real tool to drive up sales during the holiday season.
What's included in this post?
What is a retail gift wrapping station?
A retail gift wrapping station is a designated area within a retail store for the purpose of gift wrapping customer purchases. Offering retail gift wrap can be a seasonal thing and not a permanent service.
A seasonal gift wrap station, meaning that you won't offer gift wrapping service year round, can really boost holiday sales. After Thanksgiving, before Valentine's Day, and before Mother's Day you can set up your wrapping station.
Most importantly – and this should be done even before you set yourself up – do your fair share of marketing to promote your boutique with the limited-time gift wrapping service.
If your retail merchandise is more "giftable" year round, such as jewelry, consider offering the convenience of in-house professional gift wrapping on a steady basis.
Why Start a Retail Gift Wrapping Station
1. You are offering a convenience to consumers.
Even if you charge for this convenience, (more on that later) you are still saving them the time and the hassle of purchasing their own wrapping supplies and then wrapping the gift.
2. Gift wrapping service enhances the customer's experience
Retail sales tip 101: customers should feel they matter to you. This is something you are certainly aware of. And while thanking the customer for their business and packaging up their gift in a pretty retail bag is certainly helpful, offering consumers a professional gift wrap in addition to your usual packaging really takes things up a notch.
It's your way of pampering the customer as you deftly wrap up their purchase and hand them their elegantly wrapped gift. Especially when they love your wrapping!
3. A retail gift wrapping station adds holiday cheer to your store
Amp up the holiday spirit with your gift wrapping station! By using holiday themed and seasonal color wrapping supplies, you will bring the holiday cheer into the room.
It's also an easy way to add the holiday color palette to your packaging. Many shops change up their retail packaging in tune to the season's colors. This can be costly, especially when you're left with stock after the season. Tying holiday color ribbons is far more economical while still adding a holiday element.
4. Extra profit
Whether you charge for your gift wrapping service or not (as discussed later in this article), you can still cash in on your service even when it's complimentary.
How to set up a retail gift wrapping station
Decide on a location.
Where to set up your gift wrap station? You may think that relegating this service to the back of the store is the most convenient. But then you would be missing out on all the hype this service can bring to your store!
Consider setting up your station adjacent to the register.

This way, you can easily finish up the check out process with a gift-wrap.

Another plus: If your counter is set up in a way that you have extra drawer space, use a drawer for keeping tissue paper sheets neatly stacked and accessible. How easy!

Set it up facing an outside window or near the door.

Let shoppers see there's gifting going on! It might propel them to come in and view your merchandise.

Pro tip: Just be careful not block the flow of foot traffic. Make sure there's enough standing room that won't interfere with the "path" leading to and from the door.
Furnish your stand with all necessary supplies
Once you settle on the location, it's time to outfit your stand with all necessary gift wrapping accessories: gift boxes, wrapping paper, ribbon, and tissue paper. Don't forget the tape and scissors!
Aim for practicality and visibility to increase efficiency.
Keep putting back your scissors in the same spot so you don't search for it!
Place everything in front of you (minus the tissue paper if you're keeping it in a drawer) so that you can see all your options and cut down on decision time. This way, while you select the wrapping paper you can already see which ribbon to pair it with.
A wrapping paper dispenser is a must-have for effortless cutting and dispensing!
Economical and Time-Saving Tips for your Retail Gift Wrap Station
1. Keep expenses low by ordering from a gift wrapping wholesaler.
Allurepack allows you to purchase single items, such as one spool of ribbon. Buying wholesale doesn't always mean buying in bulk!
2. Pre-wrap several popular products.
This way, when customers approach with one of those items and request for it to be wrapped, you can simply exchange it with the wrapped one.
Be sure to display those wrapped products. it might even tempt customers to pay for one just because it's all wrapped. After all, it's sitting there all pretty, so why should they waste more time selecting and wrapping? Remember, many dislike gift hunting to begin with!
3. Don't waste excess wrapping paper and ribbon
Don't reach for the scissors first! Rather, start by placing the gift on the rolled out paper so that you can better approximate how much paper you'll need.
Do the same for the ribbon. Only cut once you've tied the ribbon. That way you'll be cutting only what's being used.
4. Use Stretch Loops or Ready-Made Bows
Stretch loops, pre-tied bows on an elastic, are so elegant and are a great alternative in place of tying ribbons. Simple, neat and classic. Incorporate stretch loops in your wrapping for a no-fail, time-saving wrap. Our gift bows are another easy solution: simply peel and stick.  You can also cluster some of them together for a more elaborate look.
How much to charge for gift wrapping?
The question here should really be if you should charge at all for the gift wrapping service. Ultimately it depends on many factors, and every retailer will see things differently. Here are some ideas to consider:
Offer it in place of a monetary discount.
Most retailers offer discounts before the holidays. Complimentary gift wrapping can be offered in place of a discount or in addition to a smaller discount.
So, if you generally go 25% off before the holidays, you can decrease your sale to 15% off and also offer complimentary gift wrapping.
Motivate customers to spend more with minimum purchase amount
Apply a minimum purchase value to qualify for the free wrapping. This allows you to market your free service while still charging if the consumer spends less than your specified amount.
Win-win!
Determine if an additional worker is needed
Are you hiring an additional worker to wrap the gifts? If yes, you should probably consider charging a small surcharge to help defray the extra cost.
However, with a little bit of tweaking on the job divisions between the sales people, you might find that you don't have to hire more after all.
Conclusion
There's one common myth regarding a gift wrapping service – and it should not deter you – that you must be a professional to wrap.
With a few quick tutorial videos, anyone can wrap. Also, keep in mind that simple is very luxurious.
If you have elegant wrapping supplies, then no need to worry that your wrapping will look amateurish!
Happy Wrapping!