Luxe Bags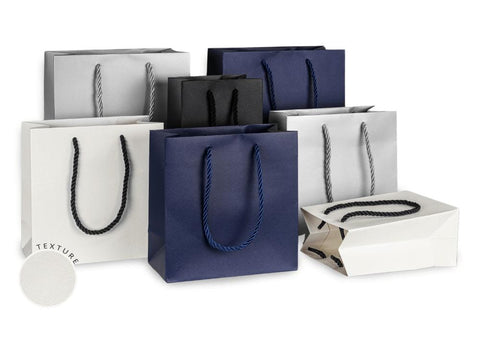 New
Luxe Bags
Luxe Bags
Designed for the discerning consumer, our Luxe bags are luxury gift bags that take packaging to a whole new realm of quality and function. Crafted with superior thick paper that will hold up without creasing, along with a subtle texture and a prominent rope handle, these heavy duty gift bags exude an extra air of sophistication.
Shop these rope handle paper bags, our ultimate bags for gifting and regifting. We're confident that these sturdy gift bags will enjoy a second use, deeming them a highly sustainable gift bag option.
Imprint your logo for enhanced visibility! These heavy duty gift bags enjoy a long lifespan and you can be seen there all along.
About this collection
Imprinting on packaging items is available in standard pigment and metallic colors as a foil hotstamp.
Pricing
$60 imprinting fee (includes first 200 prints)
$0.27 each additional print.
New Plate for Box & Pouch $69
New plate for Bags $89 Large bag $99
File
Use plate on file
Upload Logo
Custome Logo
File
Use plate on file
Upload Logo
Custome Logo
Metallic Colors
Gloss Colors
Black
Dark Gray
White
Cream
Brown
Burgundy
Pink
Gloss Teal