Premium Single Face Satin Ribbon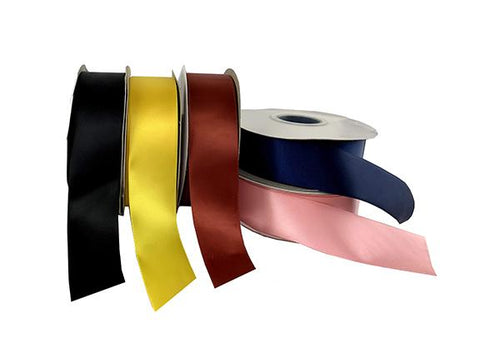 Premium Single Face Satin Ribbon
Premium Single Face Satin Ribbon
Attractive and cost-effective, a single faced satin ribbon adorns with its glossy side.
The silky feel and finish of satin ribbon is what gives it its elegance.  Often, though, one side of the luster is sufficient for the project or application.  You can now save with single face satin ribbons!  Single face satin ribbons are one sided satin ribbons, with only one right side that features the high-gloss finish.  The backside is also smooth, and it is finished with a matte appearance.
Our premium single sided satin ribbon is stitched along the edges to prevent it from fraying.  Choose from our wide range of over 25 colors!
Shop single face satin ribbon at wholesale rates. The top choice for beautiful and economical ribbons!
About this collection
Imprinting on packaging items is available in standard pigment and metallic colors as a foil hotstamp.
Pricing
$60 imprinting fee (includes first 200 prints)
$0.27 each additional print.
New Plate for Box & Pouch $69
New plate for Bags $89 Large bag $99
Metallic Colors
Gloss Colors
Black
Dark Gray
White
Cream
Brown
Burgundy
Pink
Gloss Teal