Value Single Face Satin Ribbon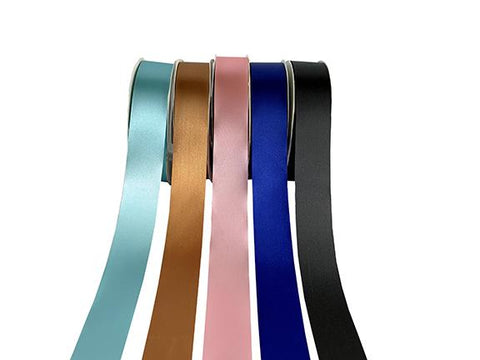 Value Single Face Satin Ribbon
Value Single Face Satin Ribbon
The same classic sheen, for less. Cheap satin ribbon can still be great quality.
Our value single face satin ribbon is manufactured with enduring satin fabric that features a glossy side and matte side. This ribbon is fused to keep the edges from fraying.
When you're looking to buy bulk or cheap, look no further.  This cheap satin ribbon gives you the look and feel of authentic satin fabric.  Check out our extensive selection of over 20 colors!
Shop our cheap satin ribbon.  Get great value for less!
About this collection
Imprinting on packaging items is available in standard pigment and metallic colors as a foil hotstamp.
Pricing
$60 imprinting fee (includes first 200 prints)
$0.27 each additional print.
New Plate for Box & Pouch $69
New plate for Bags $89 Large bag $99
Metallic Colors
Gloss Colors
Black
Dark Gray
White
Cream
Brown
Burgundy
Pink
Gloss Teal