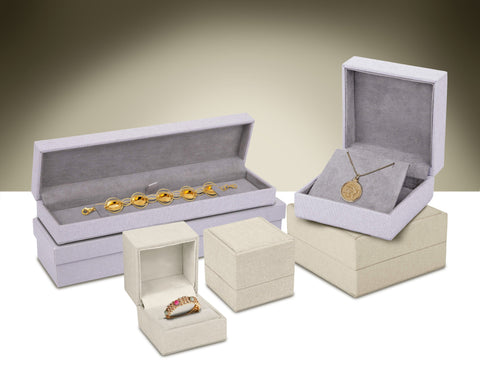 Incorporating elements of the delicate fibers of nature, the Woven Collection is all about appreciating the finer things in life.  The linen jewelry boxes of this collection are inspired by the beauty of nature's strands. With a woven linen texture, these boxes create a stunning backdrop for the jewels when opened.  The interior of the weaved boxes feature a soft suede of corresponding color to enhance the luxurious appeal.  Two bleached color options of natural beige and light grey complete the organic character of this collection.
About this collection
Imprinting on packaging items is available in standard pigment and metallic colors as a foil hotstamp.
Pricing
$60 imprinting fee (includes first 200 prints)
$0.27 each additional print.
New Plate for Box & Pouch $69
New plate for Bags $89 Large bag $99
File
Use plate on file
Upload Logo
Custome Logo
File
Use plate on file
Upload Logo
Custome Logo
Metallic Colors
Gloss Colors
Black
Dark Gray
White
Cream
Brown
Burgundy
Pink
Gloss Teal