Magnetic Gift Boxes
Collection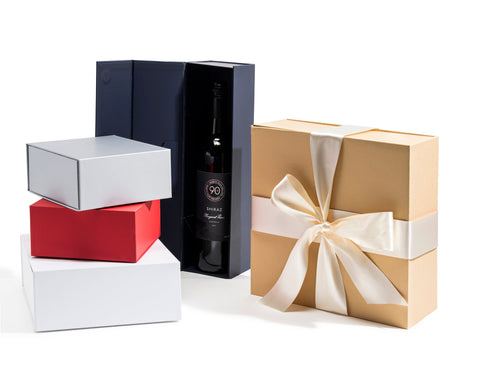 New!
Magnetic Gift Boxes
Collection
Magnetic Gift Boxes
Collection
When nestled within a premium gift box and surrounded by the smooth touch of luxury paper, the gift gains value in the eyes of the recipient. Our magnetic gift boxes will elevate your gifts and highlight their quality. Consider them for corporate gifting, weddings and parties, or high-end retail packaging. 
These gift boxes are rigid gift boxes that ship flat. Designed to be collapsible and assembled in a minute, these foldable gift boxes save you storage space. Assembly is super easy – refer to our diagram or below this page. 
With a sleek and seamless top, this magnetic lid box seals shut in the neatest fashion, with a hidden magnet. Finish off with our wholesale tissue paper and a gift ribbon, and you'll find that these magnetic closure boxes offer all the benefits you need to package your gifts effortlessly and elegantly.
About this collection
How to assemble gift box with magnetic closure
Simply lift the stick-on tabs and stick the corners together. Then, fold down the top flap, and voila! Your magnetic lid box is now free-standing and ready for your gift. Once your gift is placed inside, allow the magnetic lid to flip closed and your gift is now secure – no tape necessary.
Imprinting on packaging items is available in standard pigment and metallic colors as a foil hotstamp.
Pricing
$60 imprinting fee (includes first 200 prints)
$0.27 each additional print.
New Plate for Box & Pouch $69
New plate for Bags $89 Large bag $99
File
Use plate on file
Upload Logo
Custome Logo
File
Use plate on file
Upload Logo
Custome Logo
Metallic Colors
Gloss Colors
Black
Dark Gray
White
Cream
Brown
Burgundy
Pink
Gloss Teal